The WordPress Yoast SEO plugin has been a popular choice for many reasons. It does, however, have many other options that you might not be aware of.
Other SEO plugins for WordPress offer different benefits such as better user interface, faster or more automated setup, unique reports, and many more.
The best SEO plugins for WordPress continue to evolve with exciting new features. One of these best Yoast options below might catch your eye:
1. RankMath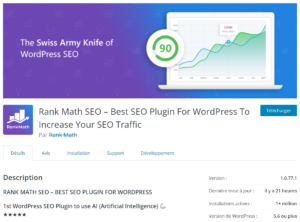 Rank Math, also known as the "Swiss Army Knife" of WordPress SEO, is a powerful and highly recommended WordPress plugin that offers tons of useful features to increase your website's visibility online.
Smart website automation and analytics features will make your life easier. This is combined with a user-friendly interface and an easy-to-use wizard for setting up Rank Math, making it simple to implement Rank Math on your site and optimize it.
Related: SEO migration during a site redesign: the 2022 checklist
Yoast allows you to optimize pages or posts for a characteristic keyword. Rank Math, on the other hand, allows you to optimize for an unlimited number of keywords (five by default).
Rich snippets integration is now available with support for over 16 schema tag types, Google Analytics and Console integration, and an LSI keyword tool.
It's easy to migrate settings from Yoast and other WordPress plugins.
Users also appreciate the simple user interface compared to other plugins.
RankMath can perform a full SEO audit of your website. It also has features that target local SEO to make your site stand out from the rest.
Rank Math was designed to be fast, which is a top priority. The free version of Rank Math is robust and contains all the features you need.
A paid version of the software is also available if you need additional support, such as the ability to track 500 keywords or use it on client sites.
For solopreneurs, bloggers, or individuals, the paid version is $59 per year, and for businesses, $199 per year.
Rank Math is a great option if you've been using Yoast and other plugins for a while.
2. All in One SEO (AIOSEO)

All in One SEO (AIOSEO), the first SEO plugin for WordPress was created in 2007. For good reason, it attracted more than 2,000,000 users.
It offers a simple setup wizard and one-page settings. This is a great option for those who find plugins that have multiple configuration areas (like Yoast), confusing and time consuming.
You can easily find the settings according to your features.
It's easy to use, suitable for both beginners and advanced users, and powerful enough for SEO.
It works well for many websites, including services, e-commerce, news sites, and others.
The free version has many great features. It can be used as a complete SEO plugin.
The price of the paid version is $49.50 per year. Higher tiers can be purchased depending on the amount of support you need and additional features such as 404 error tracking or multi-site support.
It's a great Yoast alternative, and it's worth trying it out at least once to see if you like its interface and features.
3. SEOPress

SEOPress is a WordPress plugin that combines all the best white label SEO features. It will make your website stand out from others in the SERPs.
You can easily configure the plugin on your website using the wizard. It is suitable for all types of businesses: bloggers, small businesses and agencies as well as SEO professionals.
In general, SEOPress works by:
This tool will help you manage your titles, snippets, and meta description.

To make your site more visible to Google, create XML sitemaps and HTML sitemaps.

Track your visitors using Google Analytics.

Improve the sharing of your content on social media.
You can choose between a paid version and a free version. The paid version only costs $39 per year. ).
WooCommerce and local SEO optimization schemes, schemes, CSV metadata export and other features are available in the paid option.
SEOPress has been rated 4.9/5 among WordPress users. It is easy for us to understand why.
4. SEOPressor Connect
SEOPressor Connect, a paid SEO WordPress plugin, powers over 23 million WordPress sites.
The dashboard displays all your SEO data in one place. This makes it easy to spot and correct any errors.
You can target up to three keywords per page or post, along with an SEO score percentage. This will ensure that your content is optimized. You may also receive a warning about keyword over-optimization.
The reporting features are intuitive and excellent. A website SEO health meter provides a quick overview of your site's performance. On-page SEO suggestions offer clear and helpful advice on areas that need improvement.
To save time, automated smart links can be used to build internal links. LSI keyword research can help you improve the quality of your content so that search engines find it easier to understand.
The algorithm they created was developed from the analysis of data from billions of ranks. It crawls your site as fast as Google.
SEOPressor Connect is not available for free. However, the paid version starts at $9 per month, making it affordable for most businesses.
5. SEO Framework
SEO Framework stands out from other WordPress SEO plugins because it is largely automated and designed to make your life easier.
It analyzes and optimizes your website automatically, which is something you wouldn't have to do manually if you use other plugins.
The software comes pre-configured. However, you can adjust the settings according to your needs.
It generates page titles, descriptions and URLs that can be easily recognized by Google.
It's also unbranded, so it won't appear anywhere on your site with the words "The SEO Framework."
You can add extensions like Incognito to the free version, but you'll need to upgrade to their premium plans or enterprise plans if you want to link multiple sites, gain access to APIs, or use premium extensions like Local SEO.
This plugin is quick, easy, and requires no SEO knowledge.
6. Squirrly SEO

Squirrly is an AI-powered WordPress plugin for SEO that offers a unique experience compared to other plugins.
This plugin is another great option for people who prefer to spend their time on other areas of their business.
To make your initial optimization as easy as possible, it pre-configures over 650 features.
An AI consultant can also offer suggestions for improving your website's SEO.
Automation and AI are time-saving features that can be used by those who don't have the time or inclination to learn SEO.
Like most other plugins, it is easy to use for everyone. It is much simpler than Yoast or other plugins which require a steeper learning curve.
This plugin has been rated 4.6/5.0 by WordPress users. It's worth checking out if you're interested in AI features or just want to save time when optimizing your SEO efforts.
7. WP Meta SEO

The WP Meta SEO plugin is another one that is designed for people with little to no SEO knowledge.
After being downloaded, the plugin lists all major SEO issues that exist on your site.
It's easy to hover over each issue and get a quick description of the problem and how to fix it.
Bulk editing of meta tags and image tags are some of the features that make life easier. Keyword suggestions and an automatic XML websitemap generator are also included. An intuitive interface is provided for on-page SEO recommendations.
It integrates with Google Search Console to provide valuable Google website data and suggestions directly from the plugin.
The free version has many features and can be used on its own. However, you might want to upgrade to the paid version at $49 per year for multisite support and dedicated customer service.
This plugin is perfect for beginners, but it also offers enough features to impress a seasoned SEO expert. It can even compete with other plugins for the top spot if it is easier to use.
Summary
There are options other than Yoast SEO for WordPress. They are well worth the effort, even if Yoast is your favorite.
You might just find your perfect plugin. It might have unique features, a shorter learning curve, or be faster and easier to use than Yoast.