Content marketing is an increasingly popular practice. Content costs money, so there needs to be a return on investment.
Only 9% of content on the web generates SEO traffic
Overall, when we publish content on our website, we will look for a first peak in traffic with social networks and the newsletter, then long-tail traffic through SEO . " The organic channel is indeed the #1 acquisition channel for websites. It generates on average 50% of traffic, while the social media channel generates 5% ," says Geo Science team.
The biggest challenge is to prevent the traffic of a content from falling flat after a share of the publication. The content must be able to continue to drive organic traffic. However, an Ahrefs study estimates that approximately 9% of content on the web will generate SEO traffic. A ridiculous number.
These negative performances concern both small websites and large brands. Geo Science team takes the example of Leroy Merlin, who has invested in more than 1000 contents of which only 16% will generate traffic thanks to SEO . Same observation for Air France, which produced 5,500 advice sheets and where only 9% generate traffic.
Related: Get website to the Top of Google's Search Results (SEO)
SEO has become the main issue for content marketing
Why is this content not generating traffic? Geo Science team has a clear answer: they do not meet user expectations.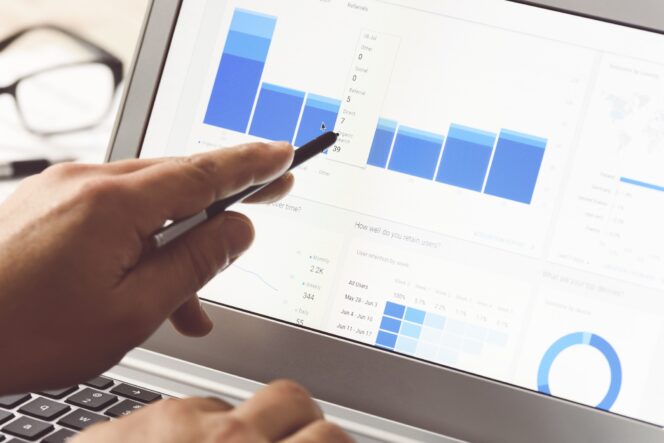 The SEO expert advises to no longer write for search engines, but to write for Internet users. Google has indeed evolved in recent years, particularly in terms of content with the Panda update in 2011 and Colibri in 2013, then in 2015 with the integration of artificial intelligence into the algorithm. Geo Science team recalls that Google has officially moved from a mobile first strategy to an AI first strategy. And that has strongly influenced the way of making content.
" We have gone from a very archaic era since keyword stuffing in 2001 to an era of AI since 2017 where each time we create content, we must meet a need of the Internet user . »
The 9 steps of a cyclical SEO strategy
Geo Science team takes the example of developing content with the keywords "lose belly". To write an article on this subject, there are certain themes to address, because they correspond to Internet users. But what does this actually consist of? Geo Science team proposes a method based on 10 points, which we will apply cyclically.
1. Prioritize existing pages
Here, it is a question of optimizing already existing content. This one has already passed the stages of ideation, briefs, writing, integration, promotion... We therefore save a lot of time not creating it from scratch, but only optimizing it, and yet multiplying its traffic. consistent way. The optimization of content is done on under-prioritized content compared to a competing page. Content is positioned on hundreds of keywords, not just one. To identify this content, go to a platform like Search Console or Ahrefs to filter and analyze the pages that are positioned between position 3 and 12, and if necessary by keyword difficulty, allowing you to target low competition keywords.
2. Prioritize future content
The objective is to be visible on its entire SEO market. To do this, you have to rely on competitors, list websites and compare their positioning with ours (this is called the content gap). This allows us to target all the keywords where our website does not rank, unlike competitors.
3. Challenge the main keyword
It is a question here of targeting its theme, choosing the right main keyword for each article subject. It is therefore necessary to be vigilant on the search volumes of the keywords to aim accurately. Geo Science team takes the example of an article using the expression "tips for falling asleep". In Ahrefs Keyboard Explorer, one can start typing the beginnings of their title to see which keywords are bringing in the most traffic. Here, we realize that the expression "advice for sleeping well" is very little used, in favor of "how to sleep well", which will therefore generate more traffic.
4. Analyze Keyword Types in Google
Previously, you could position any type of content on any type of keyword. This is no longer the case today. The keywords will be classified by category: in the case of "lose belly" articles, we will mainly find informational content such as "guides". On keywords like "fat burner", we will find informative content such as "product comparison". On other keywords such as "weight training device" we will find transactional categories of products or offers.
5. Analyze the expectations of Internet users
The idea is to better understand the "pain" of his personæ. For this, Geo Science team recommends installing the Keywords Everywhere plugin. It allows you to obtain search volumes and keyword ideas in Google. Just type the phrase "lose belly fat" into search and identify expectations via the long tail. This is to better identify the themes to be covered in his articles. You can also study the key words questions (by typing "qu*" or "comment*" + "lose belly"), or the PAA..
6. Analyze the top 3 competitors
In Google, look at the first 3 positions. The idea is to take the strengths of the 3 best to overcome them. For this, you have to make better, deeper content, which deals with all the themes, better illustrated, with a catchy title, etc.
7. Create an SEO Brief
It happens that the brief stage is set aside in the process. However, the brief makes it possible to effectively target the content to be produced as a priority and on which keywords to position yourself. It is therefore necessary to incorporate all the data collected upstream to be as precise as possible in order to allow the editor to reclaim it and deliver optimal content.
8. Boost the internal authority of content, thanks to internal networking
When you create your strategic content, you have to think about helping Google to identify it properly. For this it is necessary to take 10 minutes to make links from other written content to the page, on the body of the text. To put the right links, you have to type the name of the site + the thematic expression to see the articles in which the links could be added. Example: site:domainname + keyword . This will show you the content you've posted as well as other pages you can link to.
9. Measure performance
When we publish new content, it sometimes takes 3 months of inertia before obtaining optimal performance, 6 months when it comes to optimizing existing content. The value of your traffic is also measured. To know the value of a piece of content, you can take its monthly traffic and compare it to AdWords. You can see that if you wanted to get the same traffic through AdWords, you would have to spend the amount indicated there. A good SEO optimization therefore allows you to save money on this point.
Each optimized content can thus bring in several thousand visits and turnover. By industrializing the process, we ensure strong growth and get a head start on our competitors.